On a recent sunny Saturday afternoon in Melbourne, I pulled up at a traffic light right behind a D-Type Jaguar. Not the sort of thing you see every day. And unlike most of the D-Types I'd seen, this one was painted blue rather than British Racing Green.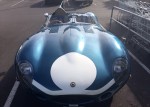 I couldn't resist following it for a while, even though wherever it was headed was not quite where I'd been going. As I drove along behind the Jaguar, the sound of its engine under acceleration was beautiful.
And the view of its low, lunging body and tail fin was spectacular. It made driving along a minor suburban road feel just a tiny bit like being on Mulsanne Straight.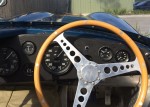 After a few minutes, the driver pulled into a supermarket carpark and I parked alongside.
The car's owner, Robert Sinclair, was happy to have a chat. "The family needed some things from the supermarket and it's a lovely day, so I thought why not take the D-Type," Sinclair explained. Why not indeed. Not your average shopping runabout, it certainly attracted some interest from other shoppers while we talked.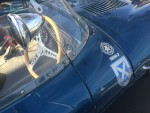 The car is one of a small number of replica D-Types built in the UK and is painted in the colours of the Scottish privateer racing team Ecurie Ecosse, whose D-Types won Le Mans in 1956 and 57.
Whether its racing for 24 hours or just down to the shops, seeing and hearing such a car in action is a special occasion. And the term supermarket special now has a whole new meaning.