Recently I had the opportunity to drive the RACV's 1967 Morris Mini Deluxe from Melbourne to Albury and return.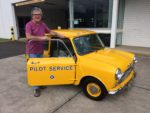 The excuse for this fun was a car display in Wodonga, sponsored by RACV, organised by the Antique Car Club of Albury-Wodonga.
My friend Daryl Meek, Motoring Interests Manager at RACV, trailered his 1913 model Fafnir along and asked me if I would like to drive the Mini.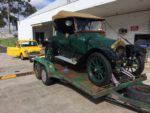 No thinking time was required before I jumped at the chance. I hadn't driven a Mini in quite a while. Once behind the wheel it was a dream to drive. The steering is so precise on these little cars and it has plenty of zip. Visibility is almost perfect. And it stops and turns on a dime. Something over 400 miles in two days was a great reintroduction to the wonders of the Mini Minor.
Here are some photos of the Mini, the Fafnir and some of the cars on display in Wodonga.